The 2021 Smart City Summit & Expo(SCSE) was held successfully last week, with a total of more than 80,000 visitors in 4 days, SCSE has brought a new direction and business opportunities for the industries in Taiwan. Although affected by the pandemic, the event still invited over 20 overseas industry associations to participate online.
During the 2021 SCSE, the Taipei Computer Association (TCA) and the Ho Chi Minh City Computer Association (HCA) signed an MOU, marked a new milestone in the future industrial cooperation between the two parties!
The purpose of this MOU signing focuses on the bilateral collaboration between both industrial members. Smart city development is one of the core focuses of the two organizations, this establishment of a good relationship creates an environment for sustainable cooperation. It is hoped that the resources of the two parties can be shared and promoted with each other in the future.
Joining the MOU signing ceremony with delegates from HCA and TCA, we also have the facilitator of this MOU, Taipei Economic and Cultural Office in Ho Chi Minh City.
Vietnam has always been an important partner for Taiwan. With the government's new southbound policy, Taiwan and Vietnam have established an inseparable business relationship. Taking advantage of the opportunity of 2021 SCSE, Secretary-General of the Taiwan Smart City Industry Alliance, Mr. Mike Lin also sincerely invites the Ho Chi Minh City Computer Association to organize a delegation to visit 2022 SCSE and bring related industries to Taiwan for matchmaking and explore the collaboration opportunities!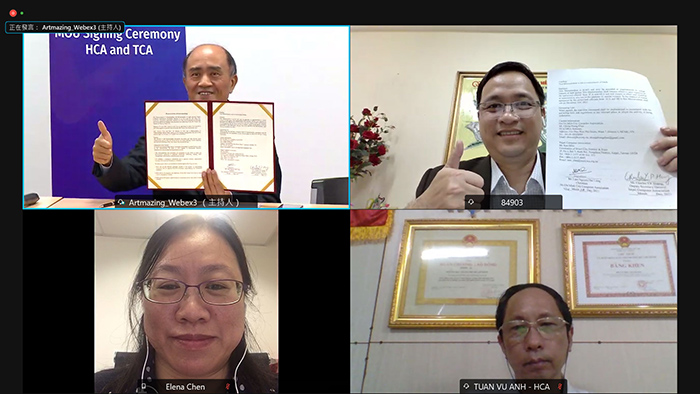 For more information, please visit : https://hca.org.vn/