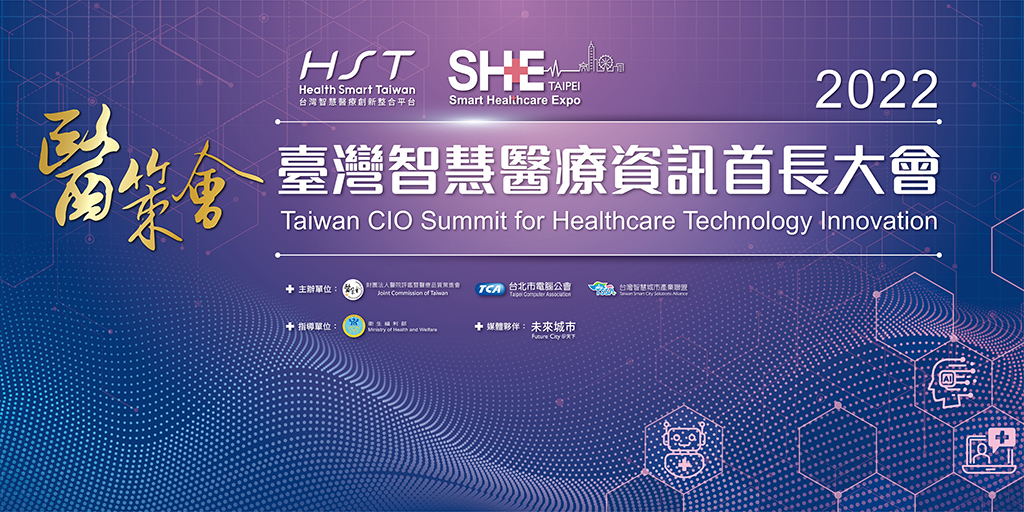 Slide 1
In order to dive into more real practices, the Taiwan CIO Summit for Healthcare Technology Innovation is debut in 2022, featuring "driving smart technologies in medical care and applications". For the development of future policies on smart healthcare, the integration of practices in smart hospitals, and the patients' safety issues under implementation of technologies in clinical practices, the event intends to create further progress in digital transformation, elevating medical efficiency and service quality.
In 2023, the Summit will be focusing on the topics of "cross-hospital communication, multiexchange, transfer, and the experience sharing of international hospitals.
2022 International Forum on Digital Transformation in Healthcare
"Digital Transformation in Smart Hospital—Challenges and Opportunities"
Digitalization strategies of smart hospitals can largely improve the precision and effectiveness in clinical practices; at the same time, those integrations of new technologies, from medical devices to surgical procedures, help hospitals sustain the medical capacity even when facing the surge of COVID-19 pandemic.
Within the scope of developing smart resilient hospitals, taking an embedded and contextual perspective of ICT (Information and Communication Technology) in digital healthcare is important. Through re-designing and re-establishing management systems, clinical processes, and hospital infrastructures, the hospitals can strengthen their capacity to adopt and maintain hospital resilience.
How can technology help traditional hospitals warn the officials about the health care: associated infection(HAI or HCAI)and generate preventive measures effectively and rapidly? Furthermore, how can the smart hospital applications, e.g., AIoT, Virtual Reality (VR)/ Augmented Reality (AR) prevent mistakes from burdening medical technicians and jeopardizing the quality of medical procedures, when the number of medical testing and clinical care continues to grow?
By involving global Chief Information Officers (CIO) from Taiwan, Southeast Asia and other regions, we aim to bring together doctors, senior technical executives, and IT directors to share their valuable insights on Smart Hospital and cutting-edge technology, such as mixed reality, and discuss both opportunities and challenges of constructing smart hospitals.